3 Most popular ways to identify stocks for intraday trading
---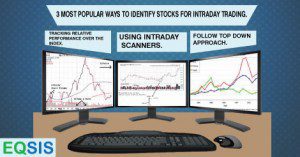 Every stock trader has an opinion about intraday trading. Some are positive, while some are scared of the term "intraday trading". It is generally perceived as riskiest form of trading. On the other side some traders' believe it is a safe way to trade as they don't have an overnight risk. Intraday trading offers quick money, but needs lot of experience to retain it. You and your system should be really smart in identifying and executing intraday trades. Here are three most popular ways to identify stocks for intraday trading:
Track relative performance over the index.

List down the top traded companies.
Identify the stocks which tend to move in the market primary direction and resist reacting during the correction – Use the same day Intraday charts.

Use Intraday Scanners.

Top gainers and losers.
Day High / Low break, Surge in volume.
Open High / Open Low stocks.

Follow Top Down Approach

Understand the current global market performance.
Keep track on FII activities in cash segment.
React only when Indian market index (NIFTY/SENSEX) move.
Watch the advance decline ratio (Adv / Dec).
Find the sectors which are performing in line with the market.
Locate the stock which leads the sector along with high volume.
Momentum is the key
Intraday trading has to be exited within a day, hence the stock should move really fast to offer some good returns to the traders. The sideways movement of stocks generally frustrates the intraday trader. Instead of anticipating stock which may move, it is better to identify stocks which are currently moving along with the market. The sentiments influence the intraday movement than the actual valuation of the stocks. The sentiments last only for a short while. It is recommended to time the entry and exits accordingly. News and other market relevant information do impact the stocks, but it is very difficult to handle the risk during such time. Highly volatile scenarios should be avoided to reduce risk.
All the above stock selection methods are very popular among the intraday traders. You can choose any one among these based on your convenience and risk appetite.
P.S In case if you follow any other interesting or successful ways to pick stocks, kindly add you points in the comment section. Hope you appreciate our time in sharing our knowledge in public domain. It would be great help if you share this in your preferred social network.