Here is the perfect stock to buy for anyone who trade in NSE.
---
Index heavy weight HDFCBANK looking attractive to buy at current levels, on 23th Dec 2016 it settled at 1186 with the gains of over 1%.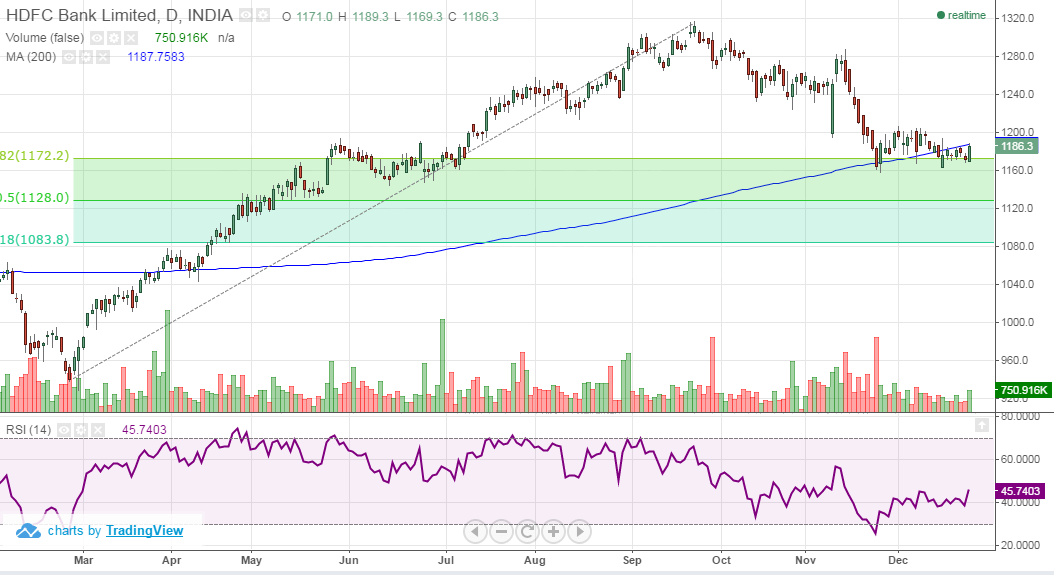 Indian Markets witnessed selling pressure for the third month in a row. Interestingly the HDFCBANK manage to outperform during the December, whereas it was under performer during last two month. For both long term as well as short term traders can consider buying at current levels.
Technical Indicators are now getting positive from its recent consolidation phase. RSI hover around 45 levels with positive divergence. The current trading zone is expected to provide stronger support as we could see the Fibonacci retracement level 38.2%. In fact the 200 day moving average coincided with the current price level. Hence any further price movement would invite bulls into the system.
During the last trading session, we could see some significant gains in price along with surge in volume. The derivative market activity has acknowledged the bull's participation, as JAN series open interested increased by almost 100%.
Actionable Trade Plan:
Long position can be considered above 1200 levels with the stop loss of 1150. The target price is seen around 1260 – 1280.
Derivative traders can consider buying 1200 call option and selling 1280 call to reduce premium cost. However it is recommend not exceed the 1:3 ratio.
Alternative View:
On the contrary, failure to sustain 1250 levels could trigger unwinding pressure. Hence it is recommended keeping tight stop loss around 1240 levels.
Kindly share your short term view about HDFCBANK under the below comment section