5 ways to find oversold stocks that do not disappoint stock traders
---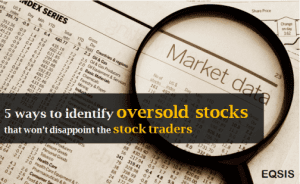 Oversold stocks are mostly preferred by the conservative traders, but it is tough to identify them. Most often people tend to buy the falling knife instead of bottom fishing. We hope that the techniques below will not disappoint you in identifying oversold stocks.
Use relative strength Index (RSI)

Relative strength index (RSI) is a classic technical indicator which studies the recent price action and plots a reading between 0 – 100, where 30 and 70 are crucial levels to observe. RSI below 30 is not oversold, but RSI crossing 30 on upside indicates the strength. Usually technical analysts take time frame of 14 days to identify RSI of stocks. However it can be customized as per your time frame.

Watch for positive divergence

When the stocks get consolidated at lower levels, it is expected to witness a positive divergence to confirm its oversold nature.

What is positive divergence?

When the price hits a low and if the momentum indicator starts to move up then this can be called as positive divergence. If you sight this phenomenon then it is a sign of accumulation phase. You may go ahead and consider buying the stocks.

Identifying positive divergence is one of the most trusted ways which you can use to identify oversold stocks.

Beware of unusual volume

Generally the stock price finds its bottom along with very clear volume indication. The unusual surge in volume may terminate the existing trend. You can find the volume sure in top companies using our stock scanner for NSE listed stocks.

Observe candlestick

Lengthy lower tails, appearance of engulfing / piercing patterns, the opening gap getting filled in the same day along with high volume are the signals of bottom out scenario. Sometimes the current trading range happens to be the Fibonacci support zone. These are really useful to a short term traders.

Track derivative market

The key data points such as change in open interest and premium /discount will be very helpful to spot the over sold stocks. At lower levels the open interest is expected to drain as much as possible and discount to reduce drastically, and in subsequent days the open interest shall increase long with positive price closing, this indicates the fresh long position.
Other Points to Remember
Never Panic, It is true; no one can buy stocks at lowest price all time. It is advisable you should follow the market trend. Most of the time market takes U turns rather V turn. Although the reversal is certain, it takes time to consolidate at lower levels. Beware of V turn, because it may face near term resistance.
Finding stocks at an oversold zone would help traders to have better risk reward ratio, meanwhile it is advisable to place stoploss. Never buy low-priced stocks, it's risky. Rather buy them when it looks attractive. It is advisable to search for stocks which is moving up (following the market), rather than trying to buy the stock at lower levels.
If you have any interesting tips for identifying oversold stocks which was not mentioned, kindly post it in the comments section.