Nifty ends volatile session lower as India-Pakistan tensions inflames
---
4:54:15 PM
How well the EQSIS recommendations performed today 27 February?
1. EQSIS Intra: Long TATASTEEL above 512.5 Target 516.9 Stop below 509 CMP 511.75
Status: Not Initiated
2. EQSIS Intra: Long DIVISLAB above 1645 Target 1659.9 Stop below 1632.9 CMP 1643
Status: Stoploss
---
4:05:19 PM
Closing Bell: Nifty ends volatile session lower as India-Pakistan tensions inflame
The broader NSE Nifty closed 28 points lower at 10,806 on Wednesday. Domestic equity index Nifty fell for second straight session in a highly volatile session as tensions between India and Pakistan worsen. Ministry of external affairs said, in retaliation to Pakistan jets violation of Indian air space, Indian Air Force lost one MiG 21 jet and one pilot is missing.
On NSE, sub-indices, selling was seen in the IT, metal, FMCG and banking space, while buying seen in the auto, and pharma space.
NIFTY 50 GAINERS / LOSERS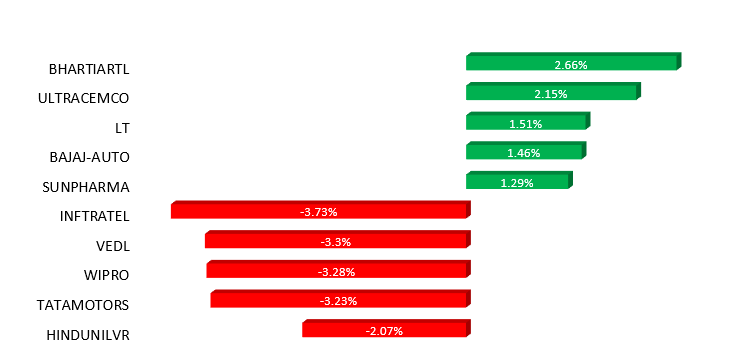 ---
12:57:24 PM
Treasure Quiz
Q1: One among the three stocks is trading near day's high despite highly volatile market
* Pick the right one and make use of it and also answer the stock in comment section
---
12:47:33 PM
Market Update: Nifty highly volatile due to Indo-Pak tensions
Domestic equity index Nifty erased all early gains after heavyweights like HDFC, Kotak Mahindra Bank, Wipro, and Infosys came under selling pressure amid Indo-Pak tensions.
The benchmark index Nifty were trading 41 points lower at 10,793 on Wednesday's afternoon session.
---
10:00:36 AM
Morning Update: Nifty reclaims 10,900 mark a day after IAF air strike on Pakistan

The benchmark index Nifty were trading 73 points higher at 10,909 on Wednesday, above its key level 10,900 mark. Domestic equity index Nifty were trading at a positive note, as geopolitical tensions retreat after IAF jets struck terror camps in Balakot amid Asian peers.  Buying witness were visible in banking, auto and metal stocks pushed the markets higher. However, weakness in information technology counters kept the upside in check.
---
9:44:44 AM
FII & DII  Deets
Foreign Institutional Investors (FIIs) bought shares worth Rs 1801.69 crore and Domestic Institutional Investors sold Rs 720.27 crore worth of shares in the Indian equity market on February 26
---
Good Morning
Welcome to the live coverage of all the Intraday actions. Track this space for all the news, views and updates from the market.