Nifty rises for 4th day on positive global cues; IT index surges over 2%
---
Closing Bell: Nifty rises for 4th day on positive global cues; IT index surges over 2%
The benchmark index Nifty closed 88 points higher at 10,880 on Monday. Indian equity index NSE Nifty rose on Monday, posting their fourth consecutive day of gains, led by gains in information technology, Banking and Auto stocks amid strong global cues.
Nifty IT was top performing sector led by  TCS, Infosys, and Wipro.
NSE Sector Performance

Asian markets finished broadly higher after President Donald Trump tweeted that the two sides had made substantial progress on structural issues.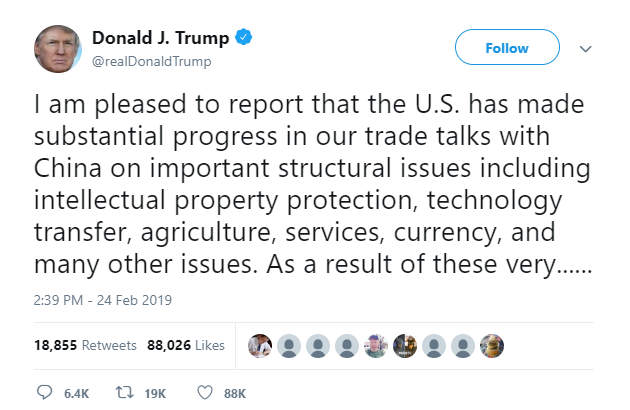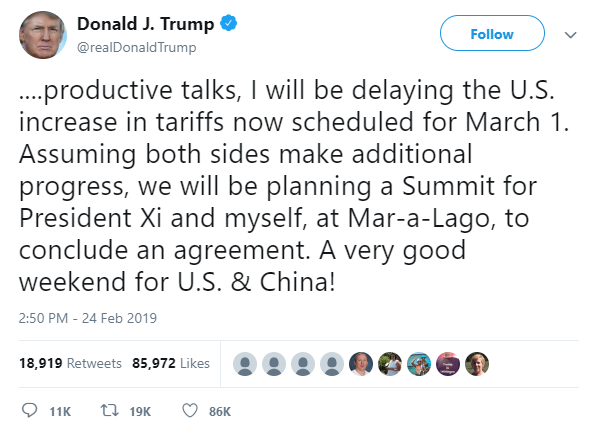 ---
1:44:03 PM
Market Update: Nifty extend gains; Finance stocks rally
The benchmark index Nifty were trading 44 points higher at 10,836 on Monday. The NSE Nifty extended their morning gains by mid-session following positive global cues. Most of the sub-indices were trading in green, financials stocks led the gains, with heavyweights HDFC Bank Ltd and ICICI Bank Ltd.
---
10:08:27 AM
FII & DII  Deets
Foreign Institutional Investors (FIIs) sold shares worth Rs 337.61 crore and Domestic Institutional Investors bought Rs 838.88 crore worth of shares in the Indian equity market on February 22
---
10:03:31 AM
Morning Update: Nifty reclaims 10,800 mark; Realty stocks shine
The benchmark index Nifty were trading 8 points higher at 10,801 on Monday. Equity key index Nifty were trading positive note and reclaiming 10,800 mark following Asian cues. Nifty realty was the outperforming sectors up over 1 percent in the morning session including gains was visible in auto and metal sectors.
---
9:21:59 AM
Top News Of The Day
NBFCs Look For Retail Money
NBFCs are looking to raise money from retail investors by issuing bonds with the coupon rates ranging from 9-10.5 % and period of maturities being 3,5 and 10 years.
Prestige To Sell Its Offices
Real estate developer Prestige Estates Projects Limited (PEPL) plans to sell 25% of its office portfolio to individual investors to expand its commercial business. 
---
9:16:43 AM
Good Morning
Welcome to the live coverage of all the Intraday actions. Track this space for all the news, views and updates from the market.