[fusion_builder_container background_color="" background_image="" background_parallax="none" enable_mobile="no" parallax_speed="0.3″ background_repeat="no-repeat" background_position="left top" video_url="" video_aspect_ratio="16:9″ video_webm="" video_mp4="" video_ogv="" video_preview_image="" overlay_color="" overlay_opacity="0.5″ video_mute="yes" video_loop="yes" fade="no" border_size="0px" border_color="" border_style="" padding_top="20″ padding_bottom="20″ padding_left="" padding_right="" hundred_percent="no" equal_height_columns="no" hide_on_mobile="no" menu_anchor="" class="" id=""][fusion_builder_row][fusion_builder_column type="1_1″ last="yes" spacing="yes" center_content="no" hide_on_mobile="no" background_color="" background_image="" background_repeat="no-repeat" background_position="left top" hover_type="none" link="" border_position="all" border_size="0px" border_color="" border_style="" padding="" margin_top="" margin_bottom="" animation_type="" animation_direction="" animation_speed="0.1″ animation_offset="" class="" id=""][fusion_title size="1″ content_align="left" style_type="underline solid" sep_color="" margin_top="" margin_bottom="" class="" id=""]Indian Benchmark Index NIFTY50 snaps 3days gain, settled marginally lower[/fusion_title][/fusion_builder_column][/fusion_builder_row][/fusion_builder_container][fusion_builder_container background_color="" background_image="" background_parallax="none" enable_mobile="no" parallax_speed="0.3″ background_repeat="no-repeat" background_position="left top" video_url="" video_aspect_ratio="16:9″ video_webm="" video_mp4="" video_ogv="" video_preview_image="" overlay_color="" overlay_opacity="0.5″ video_mute="yes" video_loop="yes" fade="no" border_size="0px" border_color="" border_style="" padding_top="20″ padding_bottom="20″ padding_left="" padding_right="" hundred_percent="no" equal_height_columns="no" hide_on_mobile="no" menu_anchor="" class="" id=""][fusion_builder_row][fusion_builder_column type="1_1″ last="yes" spacing="yes" center_content="no" hide_on_mobile="no" background_color="" background_image="" background_repeat="no-repeat" background_position="left top" hover_type="none" link="" border_position="all" border_size="0px" border_color="" border_style="" padding="" margin_top="" margin_bottom="" animation_type="" animation_direction="" animation_speed="0.1″ animation_offset="" class="" id=""][fusion_title size="2″ content_align="left" style_type="default" sep_color="" margin_top="" margin_bottom="" class="" id=""]Stock market Roundup – 05 October 2016[/fusion_title][fusion_title size="1″ content_align="left" style_type="default" sep_color="" margin_top="" margin_bottom="" class="" id=""]
The market remained sluggish today. Sensex dips 113 points or 0.4% on negative global cues.

The Nifty50 slipped below its psychological support level at 8,750 on Wednesday and formed a 'Bearish candle' followed by a star on the daily candlestick charts. Among Stocks ONGC and Axis Bank are the top losers.

Technically it witnessed selling pressure from its downward sloping trend line. Hence any further weakness may invite more sellers into the market. On the downside support seen at 8550
[/fusion_title][/fusion_builder_column][fusion_builder_column type="3_4″ last="no" spacing="yes" center_content="no" hide_on_mobile="no" background_color="" background_image="" background_repeat="no-repeat" background_position="left top" hover_type="none" link="" border_position="all" border_size="0px" border_color="" border_style="" padding="" margin_top="" margin_bottom="" animation_type="" animation_direction="" animation_speed="0.1″ animation_offset="" class="" id=""][fusion_imageframe lightbox="no" lightbox_image="" style_type="none" hover_type="zoomin" bordercolor="" bordersize="0px" borderradius="0″ stylecolor="" align="none" link="" linktarget="_self" animation_type="0″ animation_direction="down" animation_speed="0.1″ animation_offset="" hide_on_mobile="no" class="" id=""]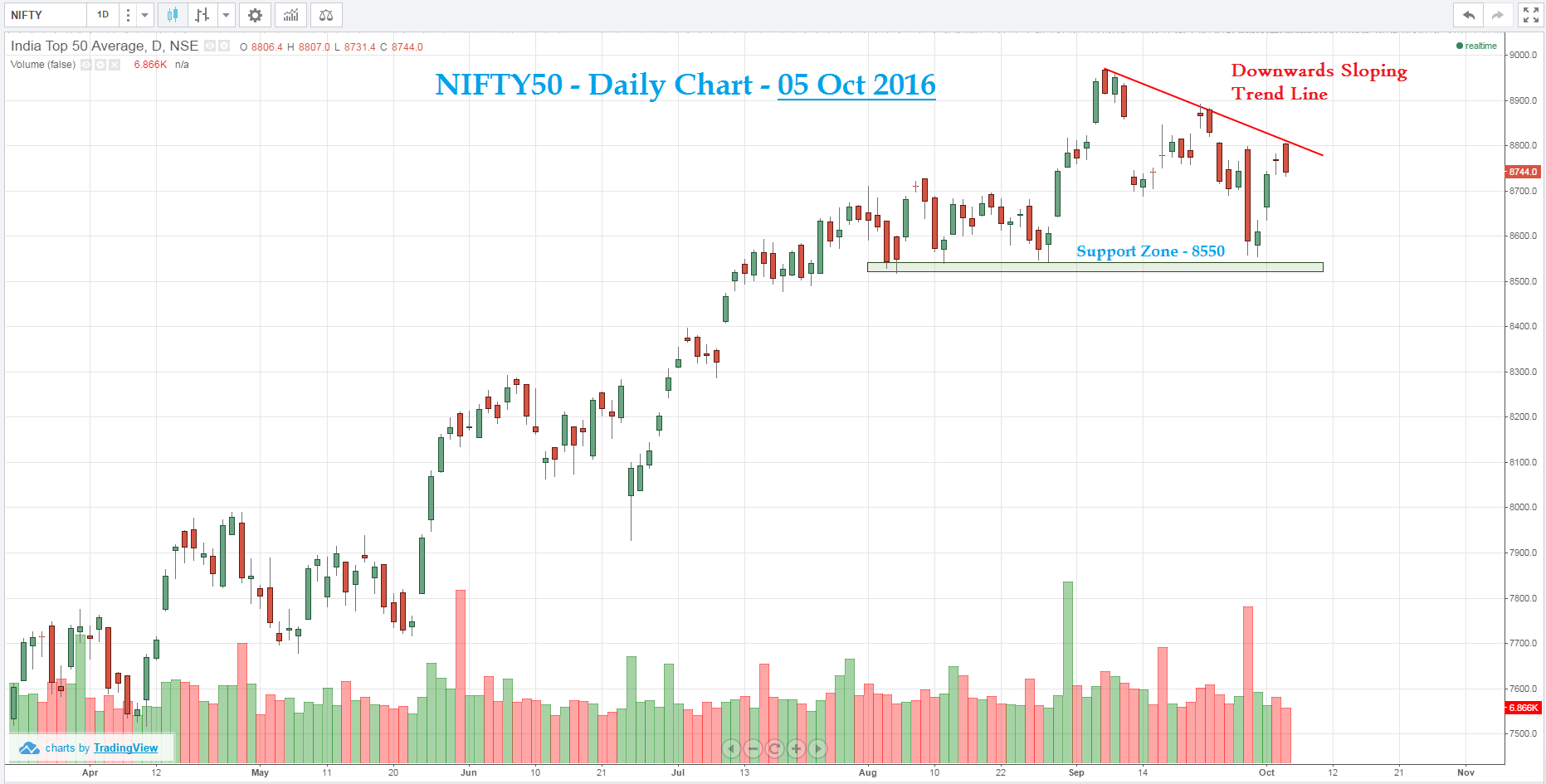 [/fusion_imageframe][/fusion_builder_column][fusion_builder_column type="1_4″ last="yes" spacing="yes" center_content="no" hide_on_mobile="no" background_color="" background_image="" background_repeat="no-repeat" background_position="left top" hover_type="none" link="" border_position="all" border_size="0px" border_color="" border_style="" padding="" margin_top="" margin_bottom="" animation_type="" animation_direction="" animation_speed="0.1″ animation_offset="" class="" id=""][fusion_text]
Stocks to Watch
[/fusion_text][fusion_checklist icon="fa-check" iconcolor="#1e73be" circle="" circlecolor="#ffffff" size="15px" class="" id=""][fusion_li_item icon="fa-arrow-up"]
DLF
[/fusion_li_item][/fusion_checklist][fusion_checklist icon="fa-check" iconcolor="#1e73be" circle="" circlecolor="#ffffff" size="15px" class="" id=""][fusion_li_item icon="fa-arrow-up"]
CANBANK
[/fusion_li_item][/fusion_checklist][fusion_checklist icon="fa-check" iconcolor="#1e73be" circle="" circlecolor="#ffffff" size="15px" class="" id=""][fusion_li_item icon="fa-arrow-up"]
ASIANPAINT
[/fusion_li_item][/fusion_checklist][fusion_checklist icon="fa-check" iconcolor="#dd3333″ circle="" circlecolor="#ffffff" size="15px" class="" id=""][fusion_li_item icon="fa-arrow-down"]
AXISBANK
[/fusion_li_item][/fusion_checklist][fusion_checklist icon="fa-check" iconcolor="#dd3333″ circle="" circlecolor="#ffffff" size="15px" class="" id=""][fusion_li_item icon="fa-arrow-down"]
TCS
[/fusion_li_item][/fusion_checklist][/fusion_builder_column][/fusion_builder_row][/fusion_builder_container][fusion_builder_container background_color="" background_image="" background_parallax="none" enable_mobile="no" parallax_speed="0.3″ background_repeat="no-repeat" background_position="left top" video_url="" video_aspect_ratio="16:9″ video_webm="" video_mp4="" video_ogv="" video_preview_image="" overlay_color="" overlay_opacity="0.5″ video_mute="yes" video_loop="yes" fade="no" border_size="0px" border_color="" border_style="" padding_top="20″ padding_bottom="20″ padding_left="" padding_right="" hundred_percent="no" equal_height_columns="no" hide_on_mobile="no" menu_anchor="" class="" id=""][fusion_builder_row][fusion_builder_column type="1_1″ last="yes" spacing="yes" center_content="no" hide_on_mobile="no" background_color="" background_image="" background_repeat="no-repeat" background_position="left top" hover_type="none" link="" border_position="all" border_size="0px" border_color="" border_style="" padding="" margin_top="" margin_bottom="" animation_type="" animation_direction="" animation_speed="0.1″ animation_offset="" class="" id=""][fusion_title size="2″ content_align="left" style_type="default" sep_color="" margin_top="" margin_bottom="" class="" id=""]Key Insights from 5 October 2016[/fusion_title][fusion_title size="1″ content_align="left" style_type="default" sep_color="" margin_top="" margin_bottom="" class="" id=""]
Reliance Infrastructure owned by Anil Ambani, signed an agreement to sell its power transmission assets to Adani Group for over Rs.2000 Crore.

Telecom stocks move up after the spectrum auction which touched a mark of Rs.63000 Crore. Among telecom stocks, Tata Communications was up by 6.31%, RCom 0.64%, Bharti Airtel rose 0.43%. Idea Cellular was the only loser with the loss of 1.48%.

IT stocks expected to stay down for next few days. Infosys and HCL Technologies fell 1.16 %and 1.45%, respectively in intraday deals, sending the Nifty IT Index down over 1%.

Among the gainers, consumer stocks TATAMOTORDVR and ULTRACEMO rose as much as 2.45 per cent and 1.96 per cent, respectively.

The shares of metal stocks rallied because the Govt extended Minimum import price on 66 steel products where HINDALCO gained over 1.5% from previous close.

Indian steel Industry has been suffering not only due to cheap imports but also recent fall in steel prices globally.
[/fusion_title][/fusion_builder_column][/fusion_builder_row][/fusion_builder_container]
Summary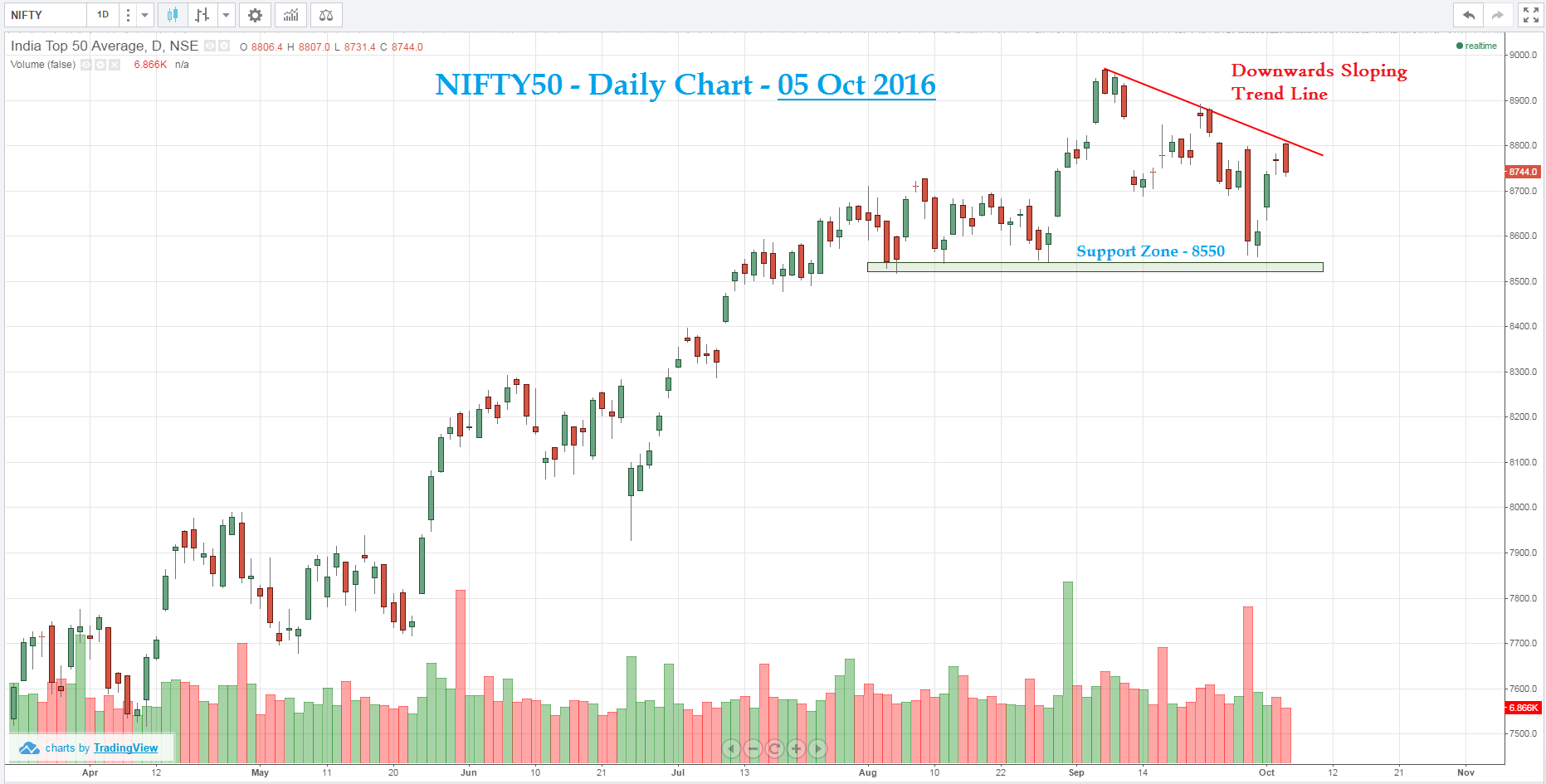 Article Name
Indian Benchmark Index NIFTY50 snaps 3days gain, Settled marginally lower
Description
The Nifty50 slipped below its psychological support level at 8,750 on Wednesday and formed a 'Bearish candle' followed by a star on the daily charts
Author
Publisher Name
Publisher Logo