Daily market update for 20 September
Investor's eyes on US Federal Reserve meeting; GAIL soared high by 5.43%. Indian benchmark index Nifty opened at record high level (10175) but the market glided down as few stocks faced selling pressure. Bulls are dominating the market, from total turnover 66% is contributed by the buyer in the market. Volume is also witnessed in bullish stocks.  Support is seen around 10020 level. As per technicals we expect Nifty to head higher.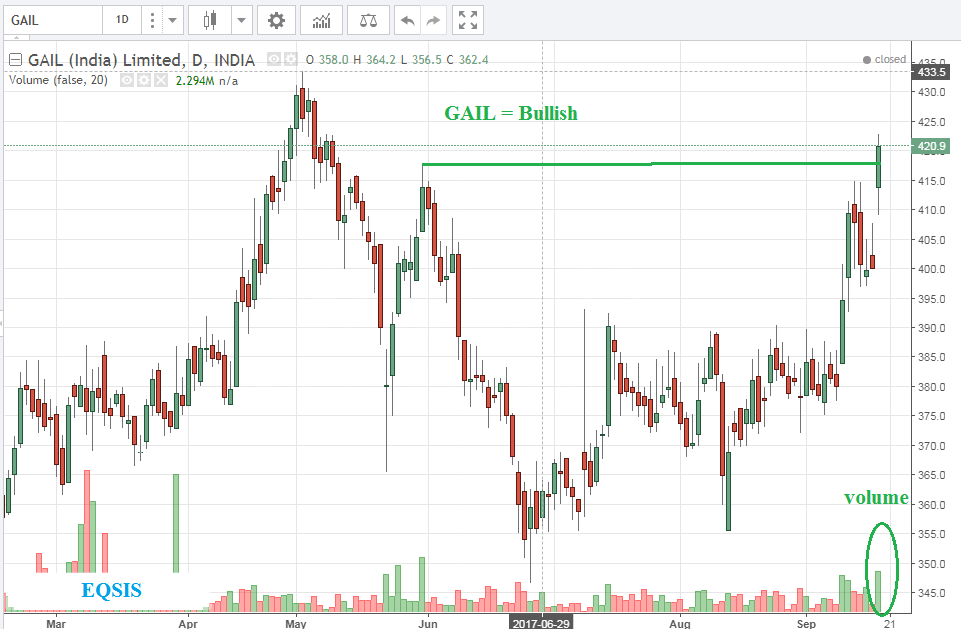 Sectors
REALTY and AUTO sectors are better performers today.  PSU BANKS fell for the second consistent day indicating weakness. METALs were dragged down by the day's sentiment. Rest of the sectors where sluggish.        
Stocks
Tata groups stocks soared high. GAIL edged high as the top gainer of the day.
TATAMOTORS surged by 4.62% and closed at Rs.423.65. Trading volume rose by 378 percent in last trading day. It signals bullish breakout. The strength of the buyers is recognized by the today's gap. It is continuously advancing for 6 days. This stock is currently settled above the recent resistance zone. We see short-term support around 373.
HINDPETRO Increase by 2.74% and to close at Rs.461.3. It did rise in the last trading session but fell by a significant margin on a weekly basis. It witnessed Bullish Engulfing pattern on daily chart. It is one among the top traded stocks. It is trading inside the trading range. The Support is seen around 433 and resistance is seen around 485.
GAIL surged by 5.15% and closed at Rs.420.85. Trading volume spiked by 191 percent in the last session. It gives an impression of a positive breakout. The intensity of the bulls is acknowledged by the opening gap. This stock is currently settled above the recent resistance zone. We see short-term support around 374.
DIVISLAB gained by 3.52% and finished at Rs. 863.25. Meantime it registered a remarkable percent over recent days. Trading volume spiked by 222 percent on 19 September 2017. However, a majority of them are settled intraday. It is oscillating nearer to its resistance zone of 893.
ITC witnessed Doji on a daily chart. ITC stock's volume spiked by 214 percent at last trading day. Interestingly 81% of the trades were taken for delivery. There could be a bearish trend. It is trading below its recent support zone. The Near-term resistance is seen around 278.25.